Traditional Kimono Experience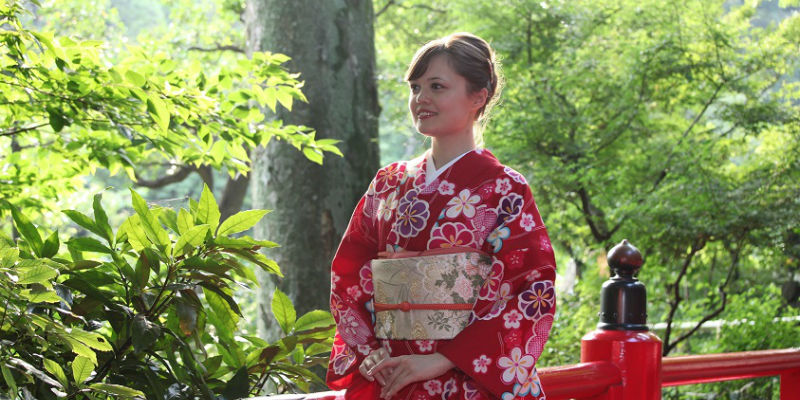 Hotel Chinzanso Tokyo offers a variety of activities to our guests, both inside the hotel and outside in the breathtaking gardens. There's no better way to enjoy them than in Japan's traditional garment, the kimono. We've gathered a variety of colorful attire in which our guests from overseas are sure to enjoy dressing up. Wearing a kimono while dining, taking photographs on the red Benkei Bridge, and taking part in the tea ceremony at a registered cultural asset will all guarantee memories of Japan that last a lifetime.
A kimono expert from Hakubi Kyoto Kimono Institute will visit your hotel room to assist you with the fitting.
Date:
Weekdays only, fitting from 9:00 a.m. to 8:00 p.m.
Kimonos can be returned the next morning, allowing guests to enjoy dinner. Please make reservations for the fitting by 3:00 p.m., one week in advance.
Price:
For guests staying at the hotel (in-house guests only):
Women's informal kimono fitting: 20,000 yen
Women's formal kimono fitting: 25,000 yen
Men's kimono and haori coat fitting: 20,000 yen
Participants do not need to bring anything in particular.
*The kimono will be worn over a T-shirt.
*To ensure comfort, guests wear their own shoes with kimonos.
*Kimonos may not be available in certain sizes.
*Groups may be composed of up to 6 women and/or 2 men.
For larger groups, please consult with us.
Details:
1. Lending of kimono set
2. Fitting by Hakubi Kyoto Kimono Institute
3. English language garden tour (30 min.)
4. Snapshot photo present (please pick up upon check-out)
5. Late kimono return the next morning. You can wear the kimono outside the hotel to dine or watch kabuki if you like.
(The kimono can be returned to your room.)
Optional plans:
Option 1:
Tea ceremony experience at a registered national asset, teahouse Zangetsu:
For groups of 1-5 staying guests: 60,000 yen per group
For groups of 6 or more staying guests: 11,000 yen per person
(English explanation and interpreting is provided.)
Tea ceremony experience details here
Option 2:
Photography by a professional cameraman
Option 3:
Dine on fresh sushi from the sushi counter:
Sit at the sushi counter and observe as our experienced sushi chef uses masterful techniques to create the finest sushi for you.
15,000 yen per person
Other options:
The hotel concierge can recommend a variety of activities to suit your needs. Inquire about cultural experiences, dining, or nearby activities.
Fittings are supervised by a specialist from Hakubi Kyoto Kimono Institute
A kimono expert from Hakubi Kyoto Kimono Institute, a group that has refined the art of kimono-wearing since its founding in 1969, will assist you in donning your kimono. The skills of these most traditional practitioners of the art will arrange a kimono that's sure to perfectly commemorate your visit to Japan.
Reservations & Inquiries:
Phone: +81 3 3943-1111