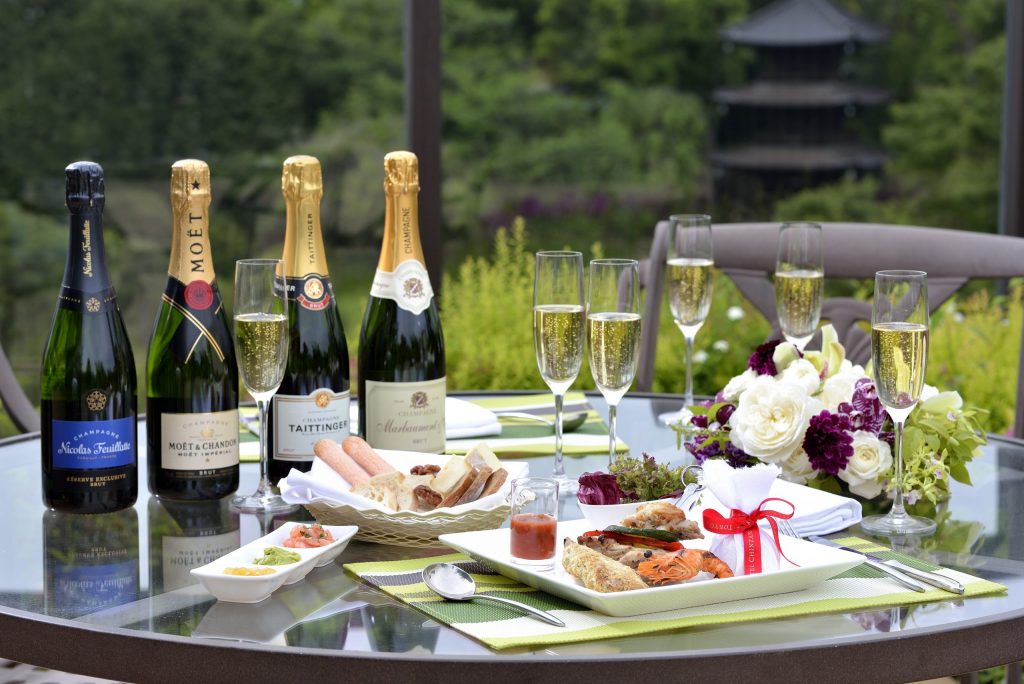 Savor delicious free-flowing champagne in this year's champagne garden. The splendid view of the garden is perfect for sipping champagne and snacking on hors d'oeuvres. This year's hors d'oeuvres plate incudes a hearty serving of barbecue-style appetizers.
What's more, the adorable pink sweets "Biscuits Roses," which can be enjoyed by swirling them in champagne, make their first appearance since 2017. Enjoy the variety of flavors by dipping Biscuits Roses in champagne, and the baguette snacks in 3 kinds of dip. In view of the gentle light of bamboo lanterns glowing through the billowing mist, the hot summer will feel much cooler.
Period:
Fridays and weekends from July 7th (Fri.) to September 24th (Sun.)
*Reservations and payment are made online (by 6:00 p.m. 3 days prior)
*Because alcohol is served at the event, guests under age 20 may not enter.
Hours:
6:00 p.m. to 8:30 p.m. (last entry at 7:00 p.m.)
Price:
18,000 yen per person
Online reservations can be made here (Japanese language page)
*Price includes tax and service charge.
*As a special plan, other offers and discounts cannot be used.
Location:
Hotel Bldg. 5th Floor floating garden Serenity Garden
*In the event of rain or strong winds, the event will be moved indoors,
or may be cancelled if another location is unavailable.
Menu:
4 kinds of free-flowing champagne
Taittinger Brut Reserve
Nicolas Feuillatte Brut
Moet & Chandon Moet Imperial
G.H. Martel Marbaumont & Co Brut
Baguette plate:
Biscuits Roses
2 kinds of baguettes and 3 kinds of dip
(Basil tomato, avocado, and homemade lemon confiture)
Caramelized walnuts
Camembert cheese
Hors d'oeuvres plate:
French lamb rack
Rosemary-flavored chicken and assorted vegetable brochette
Grilled angel shrimp
Green salad
*Photos are for illustrative purposes.
*Please be aware that contents may change due to availability.
*An optional food menu is not available.
For reservations or inquiries:
Online reservations (Japanese language page)
Inquiry form about restaurants and events
Restaurant and event reservation center
Call 03-3943-5489
(10:00 a.m. to 7:00 p.m.)