#hotelathome is brought to you by Hotel Chinzanso Tokyo, to allow everyone to enjoy the elegant dishes of our hotel at home.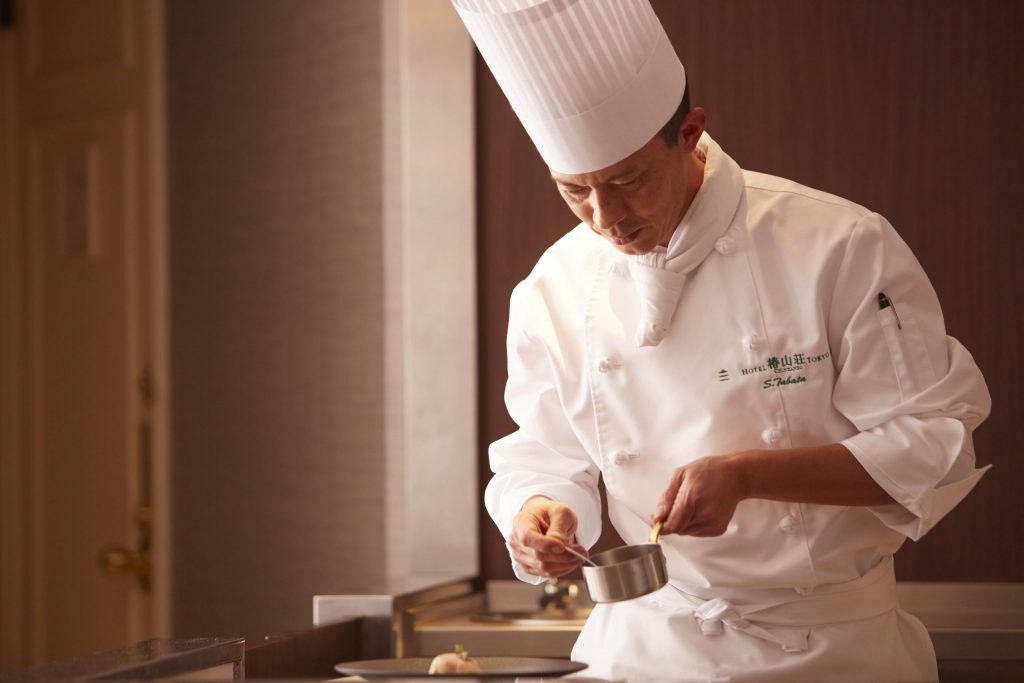 For Volume 1, we present a recipe video thought up by one of our hotel chefs. It's a French recipe that anyone can make from the comfort of their own home.
Our recipe for today is for sauteed scallops with a pistou sauce. By putting a bit of extra effort into the sauce and presentation, you can bring up the quality of your dish to hotel level! Why not try this wonderful recipe for dinner at home this weekend?
Ingredients (serves one):
Scallops – 3
Potato – Roughly half of one
Milk – 15 ml
Butter – 5 g
Leeks – 10 g (you can also substitute green onions)
Salt – As liked
Pepper – As liked
White wine vinegar – As liked (you can also substitute normal vinegar)
Pistou Sauce:
Basil – Two leaves
Garlic – 1 g
Tomato (medium) – 1/4 (after peeling the skin off in boiling water)
Grain mustard – 5 g
Olive Oil – 15 ml
Ingredient levels can be multiplied by the total number of people to get correct amounts for more than one person.
Directions:
<Pistou Sauce>
1. Peel the tomato using boiling water. This will make it easier to get the seeds out.
2. Cut the tomato into 5 mm pieces.
3. Mince the basil and garlic.
4. Combine the tomato, basil, and garlic. Add the grain mustard and olive oil, then season with salt and pepper.
-What is a pistou sauce?-
A pistou sauce (or just pistou) is a sauce made in Provence, France. It's made of basil, garlic, and olive oil.
<Sauteed Scallops>
1. Pre-heat your frying pan on high heat. Season the scallops with salt and pepper, then place them in the pan. Once they have color on them, flip them over and sautee the other side.
-Note: Pans with Teflon coatings do not require oil to cook with.
-Note 2: If using frozen scallops, it is best not to use oil to maintain their flavor.
<Presentation>
1. Boil the potato and mash it. Then put it in a pan on low heat, add the milk and stir. Then season with salt and pepper, and add the butter in at the end. Pure the potato mixture.
2. Cut the leeks into 5 cm pieces, boil them for a moment, then fry them in oil at 180℃. When finished, lightly salt them.
3. Place the potato mixture in the center of your plate, then arrange the scallops in a triangular shape.
4. Cover the scallops and surrounding area in the pistou sauce.
5. Place the fried leeks in the center, then add some white wine vinegar onto the sauce. And with that, you're finished!