#hotelathome Volume 2: Banana Chocolate Muffins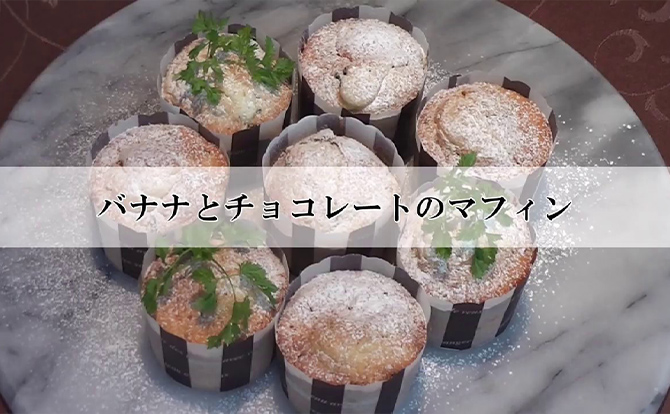 #hotelathome Volume 2: Banana and Chocolate Muffins
#hotelathome #stayhome
#hotelathome is brought to you by Hotel Chinzanso Tokyo, to allow everyone to enjoy the elegant dishes of our hotel at home.
For Volume 2, we have a quick sweets recipe that you can make along with your children!
This time, we'll be making banana and chocolate muffins.
Even those of you with smaller children can have them get involved and help out in this quick and easy muffin recipe.
Once the muffins are done, why not post pictures on social media with the hashtag #hotelathome?
We hope you'll have a fun weekend at home making muffins.
Ingredients (serves eight):
Unsalted Butter: 60g
Granulated Sugar: 80g
Large Eggs: 1
Wheat Flour: 150g
Baking Powder: 5g
Milk: 80ml
Bananas: 1
Chocolate: 40g (can be from chocolate bars or another source)
Muffin Cups: 8
Powdered Sugar: As liked
Mint: As liked
Directions
Pre-Prep:
A. Let butter warm up to room temperature.
B. Mix the flour and baking powder.
1. Stir the butter until blended thoroughly.
* If the butter is too hard, you can put it in a double boiler to soften.
2. Add the granulated sugar to the butter and mix until it looks somewhat white.
3. Add the egg in two parts to the sugar and butter mixture, mixing until it becomes creamy.
4. Add the flour/baking powder and milk in two parts.
* Adding these ingredients in two parts helps avoid clumping.
5. Peel the banana and add it into a plastic bag, then knead it into a paste.
* If you have a young child, they could easily do this part with your supervision.
6. Cut the chocolate into small pieces.
7. Add the banana and chocolate into the mixture from #4.
* You could add walnuts, sliced almonds or other nuts into this if you'd like.
8. Pour the mixture into the muffin molds, then bake in an oven preheated to 200℃ for 15-20 minutes.
* Children can help putting the dough into the molds as well.
9. Add powdered sugar and mint leaves for decoration. And with that, you're finished!