#hotelathome Volume 5: Eggs Benedict in Hollandaise Sauce with Asparagus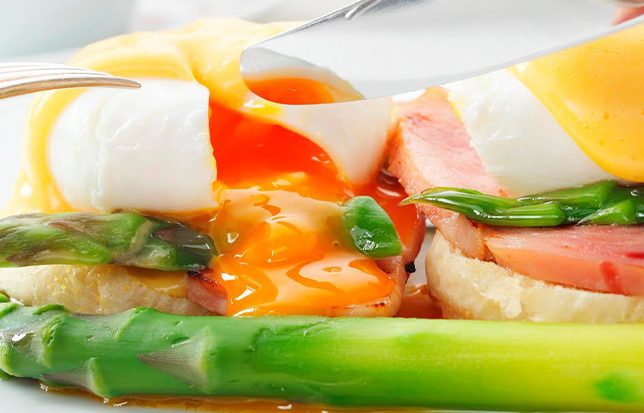 #hotelathome Volume 5 – Eggs Benedict in Hollandaise Sauce with Asparagus
#hotelathome is brought to you by Hotel Chinzanso Tokyo, to allow everyone to enjoy the elegant dishes of our hotel at home.
What do you think of when you think about breakfast at Hotel Chinzanso Tokyo? Why, eggs benedict, of course! And in Volume 5, we bring you Il Teatro's eggs benedict and asparagus recipe!
Eggs benedict is all about the tender yolk of the poached eggs and the sweet and sour hollandaise sauce. We've created this recipe so that everyone can easily make this delectable dish from their homes.
Ingredients (serves two):
English muffins – 1
Eggs – 2
Ham – 2 pieces
Asparagus – 2
<Hollandaise Sauce>
Egg yolks – 2
Water – 40ml
White wine – As liked
Salt – As liked
Pepper – As liked
Butter (unsalted) – 100g
Lemon (1/8) – 1 wedge
Ingredient levels can be adjusted to appropriate amounts for more than two people.
Directions:
<Hollandaise Sauce>
Pre-Prep – Place butter in a bowl, melt it, then scoop out the butterfat.
1. Place the egg yolks, water, white wine, salt, and pepper in a metal bowl.
2. Make a double boiler by placing the bowl over a pot of boiling water, and whisk making sure not to let the eggs get lumpy.
Note: You can heat this using direct heat, but if you're not used to it, it is very easy to accidentally wind up with something closer to scrambled eggs. So we recommend using the double boiler technique described above.
3. Take the bowl off the double boiler, then slowly add the butter you prepared earlier.
Note: Mix the butter as you go so the ingredients don't separate. Mix until small bubbles form.
4. Squeeze the lemon in, and taste to check for seasoning.
Note: At this point you could also add some vinegar if you so desire.
<Eggs Benedict>
1. Toast the English muffin and fry the ham.
Note: At the hotel, we use thick-sliced honey ham. We recommend using a thick slice of ham to add more flavor to the dish.
2. Boil the asparagus.
3. Prepare a ramekin for each egg, and place 1 egg in each ramekin. Put just enough water in each ramekin to cover the egg.
4. Use something like a toothpick to pierce the egg yolks in two places. This is to prevent the yolks from rupturing.
5. Heat ramekins in the microwave for around 50s at 500 watts. Drain the water.
Note: At the hotel, we cook the eggs in pots. But to make it easier, we wrote the recipe with the microwave in mind.
6. Place the ham, asparagus, and poached egg on the English muffin. Top with the hollandaise sauce. And with that, you're finished!