[Japanese Restaurant] Dinner for Foreign Guests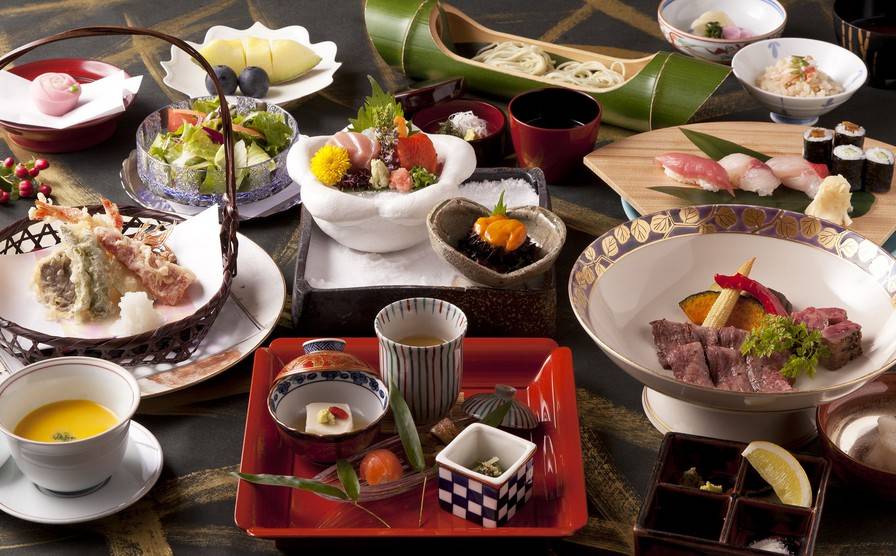 Dinner for Foreign Guests
Kinsui has put together a large variety of dishes that foreign guests are sure to love, including grilled Kobe beef sirloin, bluefin tuna sushi, and Japanese tiger shrimp tempura.
Dates:
All year round.
Time:
Starts at 11:30, last order at 8 p.m.
Price:
27,800 yen.
* Price does not include taxes, or service fees (15% during the afternoon, 20% during the evening) or private room fees.
Menu:
[Appetizers] Assorted vegetables, sesame seed tofu, egg and crab soup.
[Sashimi] Bluefin tuna, sea urchin, salmon, whitefish, assorted garnish, special vinegar (made with sesame, tofu, sugar, salt, and soup stock), and bonito flake soy sauce.
[Broiled Dishes] Grilled Kobe beef sirloin, 50g
Japanese "Kuroge-Wagyu" beef sirloin, 50g
[Fresh Vegetables] Tofu salad.
[Palate Cleanser] Seasonal soup made of mashed ingredients.
[Fried Dishes] Tempura of Japanese tiger shrimp, whitefish, seasonal vegetables, tempura sauce and rock salt.
[Main Dish] Choose one of the following:
– Hand-rolled one-bite sushi, three pieces of hand-rolled sushi (using Japanese rice), dried gourd shavings, and cucumber sushi.
– Seasonal dish.
– Soba dish of the day.
[Fruit] Combination platter.
[Dessert] Japanese sweets and matcha.
* There is a chance that the menu may change based on our inventory.
Reservations & Inquiries
Reservation desk
Phone +81 3 3943-5489
(9 a.m. to 8 p.m.)