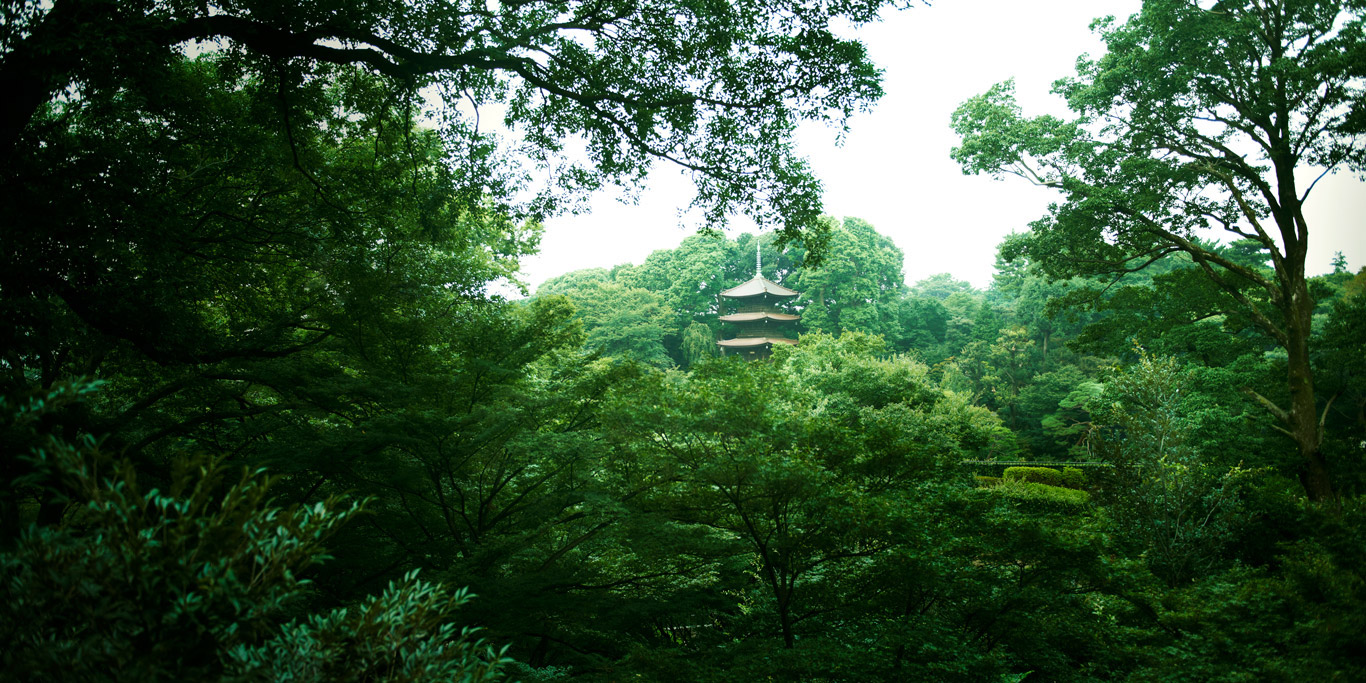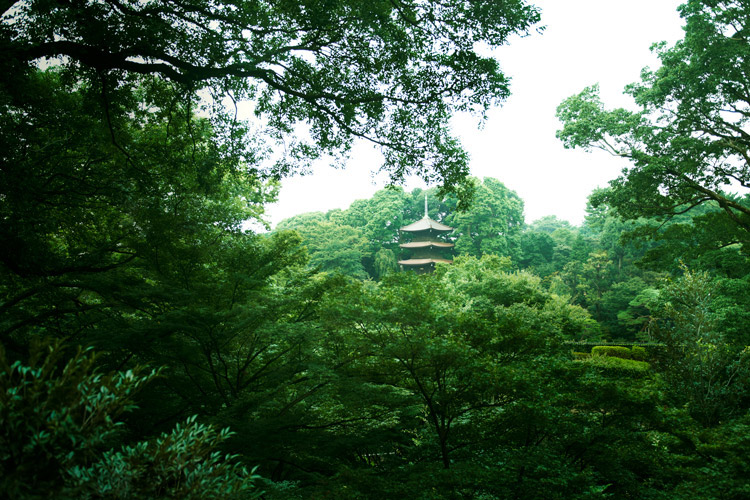 Gardens
What's new
Up to 10°C Cooler Than the City! Summer Events at Hotel Chinzanso Tokyo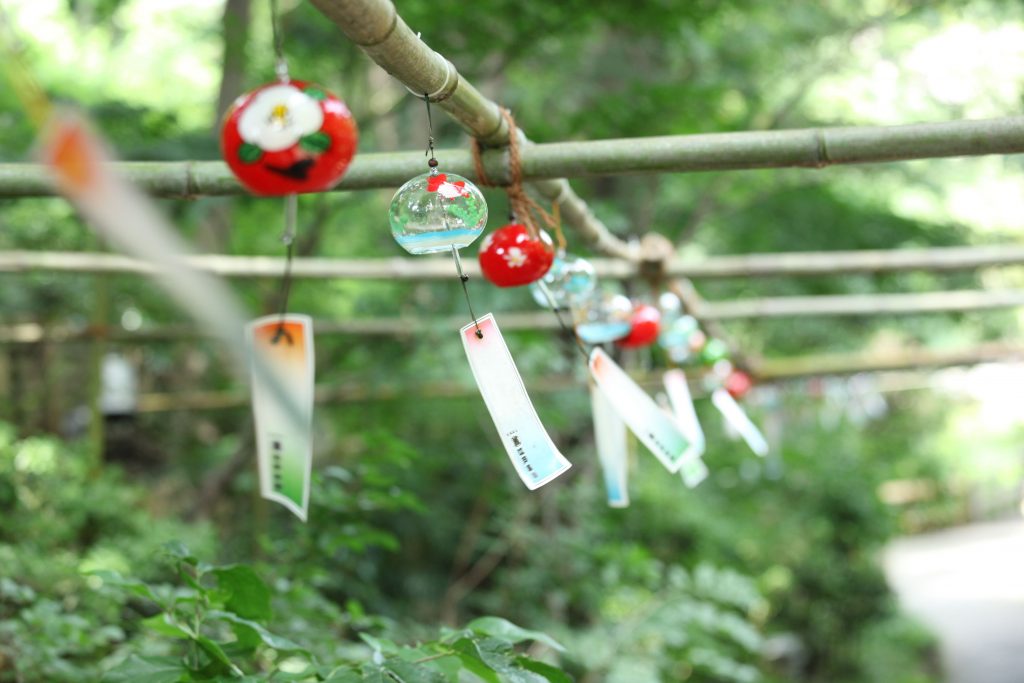 Summer days are extremely hot in Japan. Because of the high levels of humidity, daytime temperatures feel even higher than they seem. In order to avoid heat illness and exhaustion, it is customary for those living in Japan to flee to resorts located in cool mountainous regions. 
Thanks to its lush garden, Hotel Chinzanso Tokyo has always been an ideal summer retreat in the heart of the city. Now, thanks to the Tokyo Sea of Clouds, which is released several times a day, it actually feels up to 10°C degrees cooler in the garden than in the city!
In order to transform summer into a truly pleasant and magical season, Hotel Chinzanso Tokyo holds a series of events that can be enjoyed by hotel guests, restaurant patrons, or shop visitors. Read on to learn more about the summer events and come enjoy this exciting season at Hotel Chinzanso Tokyo!
The Sea of Clouds Is Amplified! Chinzanso Garden in the Summer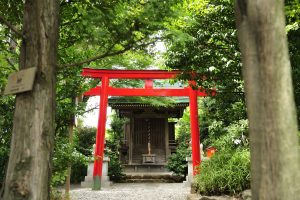 The garden at Hotel Chinzanso Tokyo is a green haven with refreshing streams and waterfalls. Taking a leisurely walk here offers respite from the heat. Since October 2020, a sea of clouds has been released several times a day, which makes it possible for visitors to feel considerably cooler inside the garden while being in the heart of Tokyo.
As a summer-only feature, the quantity of mist released in the garden will be increased by 20 percent in the interval from  July 4 until September 19! Moreover, the Sea of Clouds will also be released in the Serenity Garden, which hosts the Champagne Garden in the evening hours.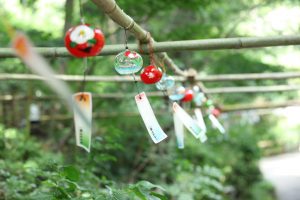 A special display of glass wind chimes, a distinctive element associated with summer in Japan, can be enjoyed in the area between the sacred 500-year-old tree and the waterwheel at the center of the garden. Three hundred traditional wind chimes will fill the air with their clear, tinkling sounds, reassuring us at every moment that we're surrounded by a gentle breeze.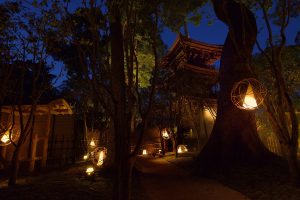 The bamboo lantern display first introduced during the firefly season will continue into the summer months. Visit the area behind the Three-Story Pagoda to be enshrouded in soothing lights that reflect moss–an artistic display inspired by Japanese traditions.
If you visit Chinzanso Garden during the day, don't forget to borrow a Japanese umbrella! These beautiful traditional umbrellas are lent for free so that visitors and guests protect themselves from the scorching sunbeams. Needless to say, these umbrellas are an excellent accessory for eye catching photos. We recommend the areas around Benkei Bridge, the Three-Story Pagoda, or the Shiratama Inari Shrine as backdrops for your photos.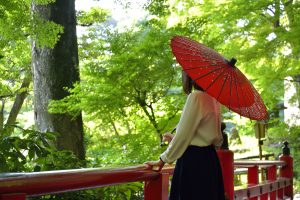 Turn Summer into a Celebration! Special Events
What would summer be without the chance to enjoy the evening breeze in good company, drink in hand, completely relaxed? Hotel Chinzanso Tokyo offers a reason to celebrate the hot season through two special events: the L'OCCITANE x Hotel Chinzanso Tokyo Sunset Dinner Buffet (July 8 – September 30) and the Champagne Garden (July 15 – September 25).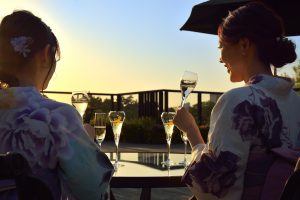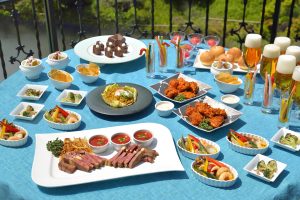 The Tokyo Sea of Clouds Beer Terrace is held outdoors on the terrace of a banquet hall within the Banquet Building. In addition to free flowing beer, guests can enjoy frozen cocktails and several types of nonalcoholic drinks.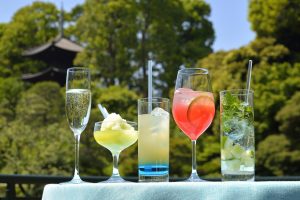 The beverages pair well with the food menu, which includes dishes such as steak, potato fries, dry curry, and seafood ajillo.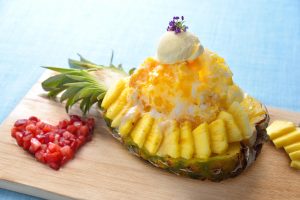 In addition to seven types of desserts to choose from, guests can also enjoy delightful shave ice served with tropical fruit for an additional fee.
One of the joys of summer in Japan is wearing yukatas, which are light, casual kimonos. Guests who come to the Tokyo Sea of Clouds Beer Terrace wearing a yukata during weekdays will receive a present!
*Please note that the Tokyo Sea of Clouds Beer Terrace is being held only on certain days during the July 1 – September 20 interval, in two rounds: 17:00 – 19:00 or 18:00 – 20:00. Fee: 7,500 yen/person.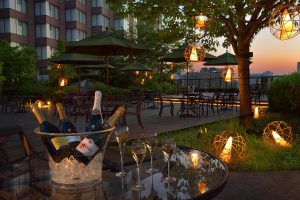 The venue for the Champagne Garden event is the Serenity Garden. Located on the rooftop, it offers one of the best vantage points to enjoy the Sea of Clouds along with the evening illuminations and a bamboo lantern display.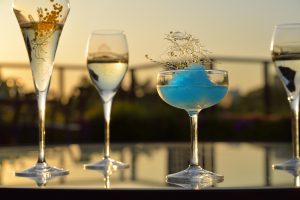 Guests can enjoy an all-you-can-drink menu of Champagne, cocktails, and nonalcoholic beverages. Four types of Champagne are available.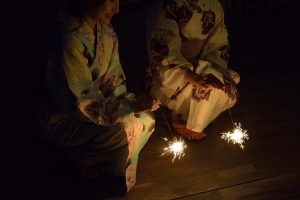 On weekdays, all guests receive a set of two handheld fireworks, which they can light straight away. Fireworks are another beloved icon of summer in Japan. Gazing at their gentle light against the background of the Chinzanso Garden shrouded in the Sea of Clouds, you'll feel the charm of this traditional Japanese custom.
A special edition of the Champagne Garden is held on August 15 and 29 when participating guests are invited to wear yukatas! On this day, guests can take part in raffles to receive special cocktails and presents. Guests who come in pairs on these days will receive handheld fireworks to light up in the garden. 
*Please note that the Champagne Garden is being held only on certain days during the July 16 – September 26 interval, from 18:00 to 21:00. Fees: Monday to Thursday 14,000 yen/person; Friday to Sunday, public holidays and the days before: 15,000 yen/person.
Healthy, Gorgeous, and Energizing! Summer Menus
The restaurants of Hotel Chinzanso Tokyo offer seasonal menus that are a joy for both the eyes and the palate. Ryotei Kinsui and Miyuki will enchant guests with menus that include traditional Japanese flavors such as sweetfish and pike conger, which are in season during the summer months.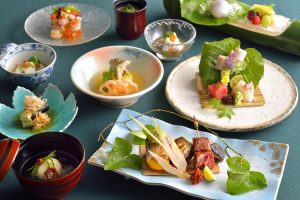 One of the superb features of Japanese summer cuisine is the color contrast of the dishes and the plates they are offered in. Relish the cool colors of the plates–sky blue, aquamarine, vibrant green hues–which fend off heat exhaustion by reminding guests of refreshing streams, forest shade, and cool breezes.
Casual dining restaurant The Bistro offers courses made with ingredients considered superfoods for their rich nutritional content. In the summer, a special course making generous use of tabasco sauce will be added to the menu. Hot sauce is thought to be efficient in fighting heat exhaustion because it helps raise the natural temperature of the body. The combination of vegetable superfoods and tabasco is not only tasty, but also stimulating to the senses–a boost of energy during the hot months.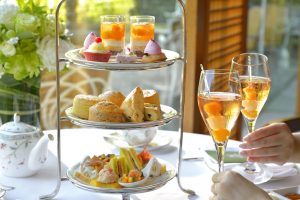 Lobby lounge Le Jardin, well-known for its exquisite Afternoon Tea menus, offers two special menus this summer focused on two types of fruit: peach and melon.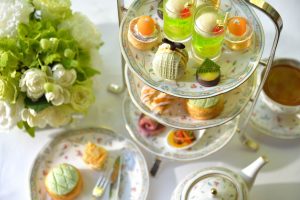 Both menus consist of sweet and savory delights made with fragrant peach and melon. These desserts pair exquisitely with the flavorful specialty teas offered by Le Jardin.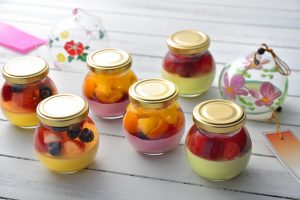 Those who wish to take home delicious souvenirs from Hotel Chinzanso Tokyo can stop by the hotel shop to pick up confectionery inspired by wind chimes. Shaped like the charming summer icons, these original desserts are made with refreshing, flavorful fruit.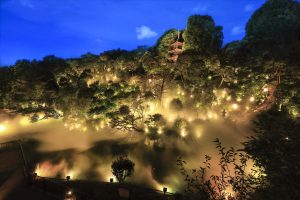 Don't let this summer pass without special memories! If you live in the Tokyo area or are planning a visit, stop by Hotel Chinzanso Tokyo for a truly relaxing stay at a first-class hotel or for a memorable dining experience with magnificent garden views. The Tokyo Sea of Clouds is even cooler and more refreshing during this season, making Chinzanso Garden the ideal summer retreat. 
Updated on June 25, 2021