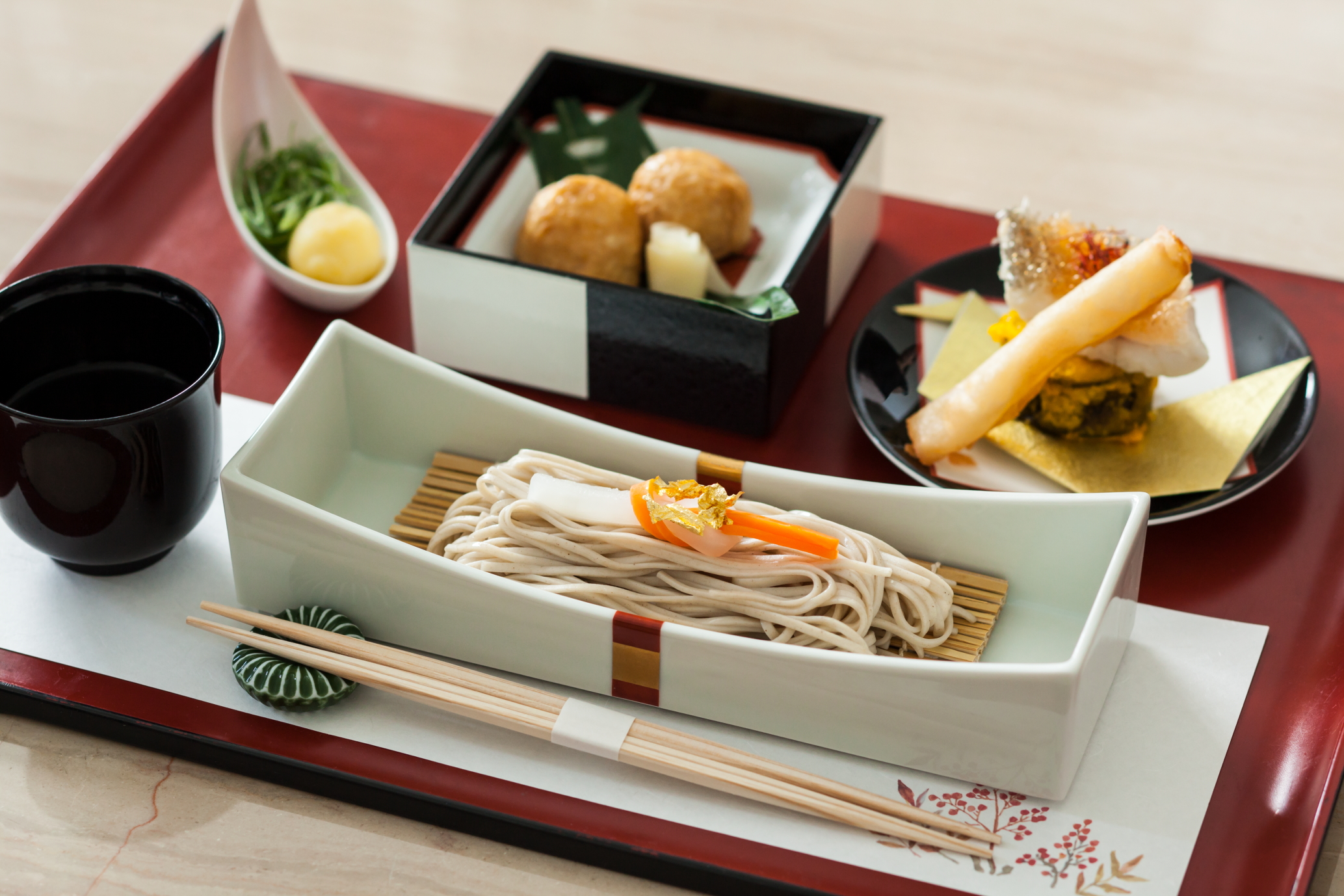 New Year's Day at Hotel Chinzanso Tokyo
The New Year is a very special celebration in Japan. While in some countries, Christmas, Easter, Thanksgiving, or other celebrations are occasions for families to gather and spend time together, in Japan, New Year is the holiday when people are together with their loved ones.

It is considered very important to step into the New Year in an auspicious way because it is a new beginning. While the Japanese may not consider themselves religious, there are many internalized rituals in Japanese culture. At New Year's, the presence of those internalized rituals is particularly visible.
For example, a Japanese person wouldn't let New Year's Eve pass without eating a special soba noodle dish called Toshikoshi-soba. In addition to being associated with longevity because of their length, soba noodles are easy to cut and chew; this led to them being associated with "cutting away with the trouble of the past year." In other words, one's personal prayer for health, longevity, and a good year ahead takes the form of eating Toshikoshi-soba on New Year's Eve. Other examples include visiting a shrine or temple as early in the morning as possible on January 1st or eating a special type of cuisine called osechi during the first days of the year. These are just some of the elements without which Japanese New Year would be inconceivable.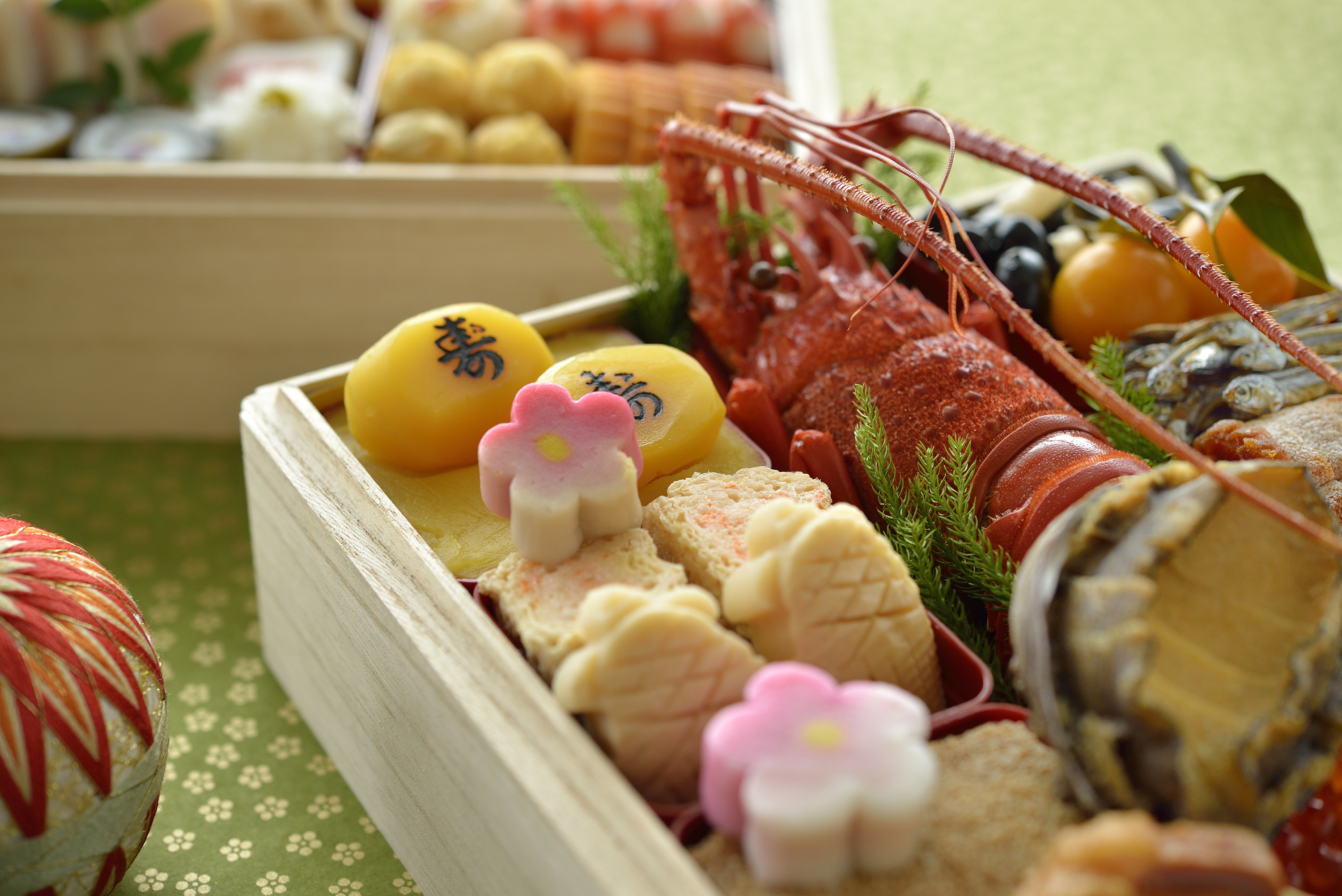 Osechi is the name for a series of dishes cooked and enjoyed only at New Year's in Japan. This type of cuisine has an impressive appearance, with every dish being cooked individually, just as in kaiseki cuisine.

Every dish is imbued with meaning based on visual appearance or metaphorical name associations. Pink and white kamaboko fish cake, black beans boiled in sugar, bamboo shoots, and smashed chestnut paste (kuri kinton) are just a few of the dishes that are never absent from a typical osechi meal.

The pink and white color combination in the fish cake stands for red and white, a color duo that symbolizes liveliness and wishes for happiness. Celebratory gifts for weddings or childbirth are often decorated with red-and-white threads. Black beans, called kuromame in Japanese, bear wishes for good health and the power to work diligently ("mame" in Japanese) until old age. Bamboo shoots develop at remarkable speed in early spring, growing fast into supple, sturdy bamboo stalks. That is why the Japanese New Year's food always includes bamboo shoots, as they symbolize healthy growth and accomplishment. The kuri-kinton chestnut paste is associated with financial prosperity and good luck in competitions because of the double meaning of "kin": "golden" (referring to the color of the dish) and "money."

Every year, Hotel Chinzanso Tokyo offers two types of osechi food sets (preorder is required).
The dishes are cooked by the professional chefs of the hotel who are well-known for their expertise in Japanese and international haute cuisine.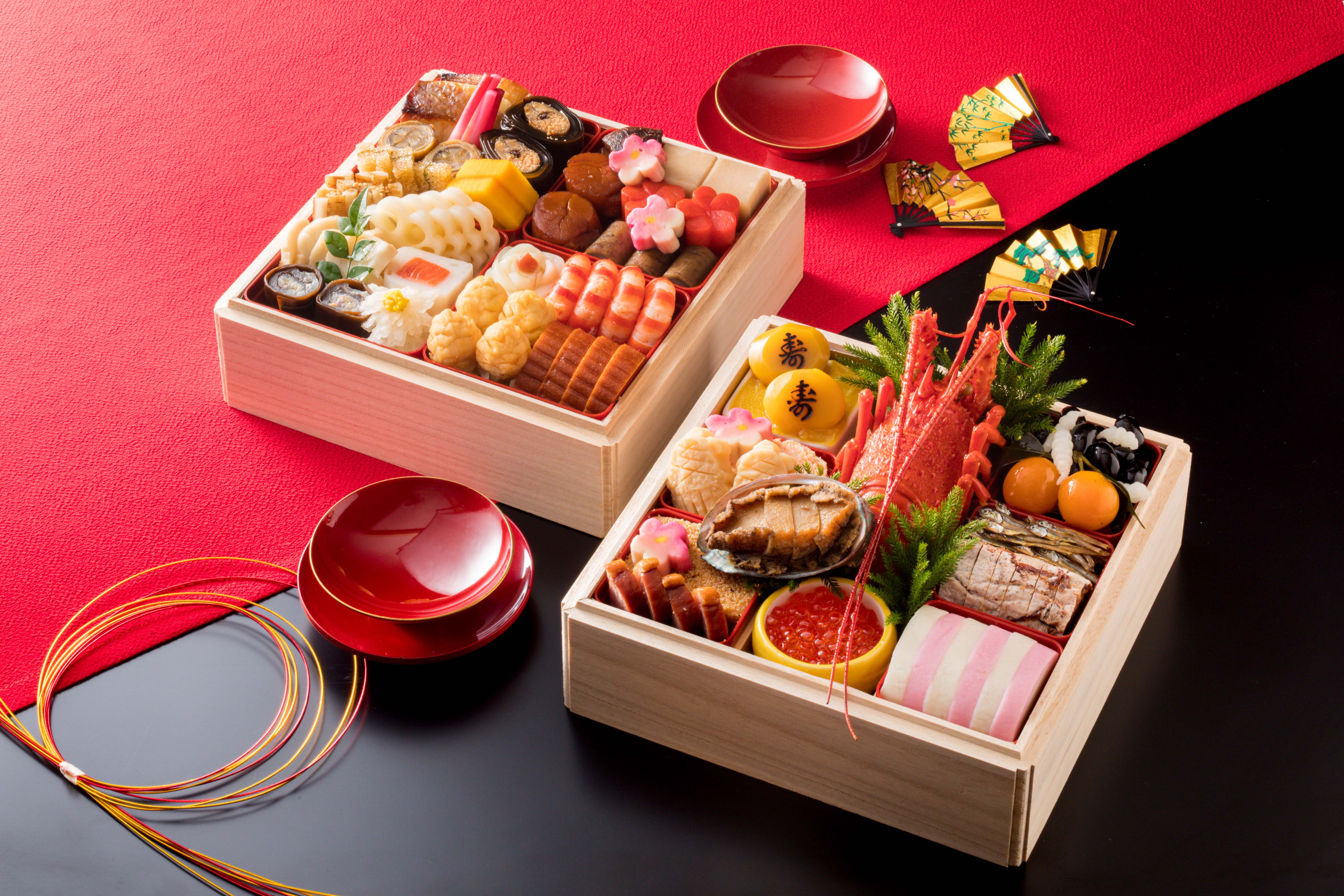 The Japanese Two-Layered set contains a total of 39 types of osechi dishes. In addition to the basic four dishes mentioned above, the set contains lobster, Japanese scallop, marinated salmon roe, smoked duck, conger eel rolls, smoked salmon, vinegared burdock with sesame sauce, and other splendid specialties that are a treat for the eyes and the palate.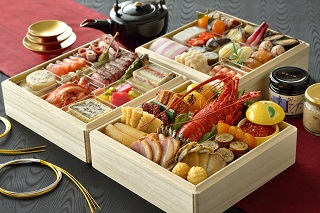 Stay at Hotel Chinzanso Tokyo for a New Year Holiday to Remember!
For a special way to celebrate the New Year Holiday with your family or significant other, consider visiting Hotel Chinzanso Tokyo in years to come for its exclusive New Year events. Since the holiday is a time of renewal, we hope you'll consider staying overnight at the hotel. Enjoy the beautiful garden with its spectacular sea of clouds and one thousand lights, or refresh yourself with a luxurious treatment at YU, THE SPA, the excellent spa facility at the hotel. After dining on a delicious Toshikoshi-soba meal or the New Year's Selection Dinner with osechi cuisine, how about visiting a shrine at midnight as is customary in Japan? There are several shrines and temples nearby Hotel Chinzanso Tokyo, including Kanda Myojin, one of Tokyo's iconic shrines. In the morning, enjoy a breakfast of osechi cuisine along with the splendid scenery of the garden. Winter is the season when camellias, the iconic flowers of Chinzanso Garden, bloom, so do enjoy a walk in the garden to relish these graceful delights. A celebratory New Year's stay at Hotel Chinzanso Tokyo is the ideal way to start afresh into the first day of a new year.