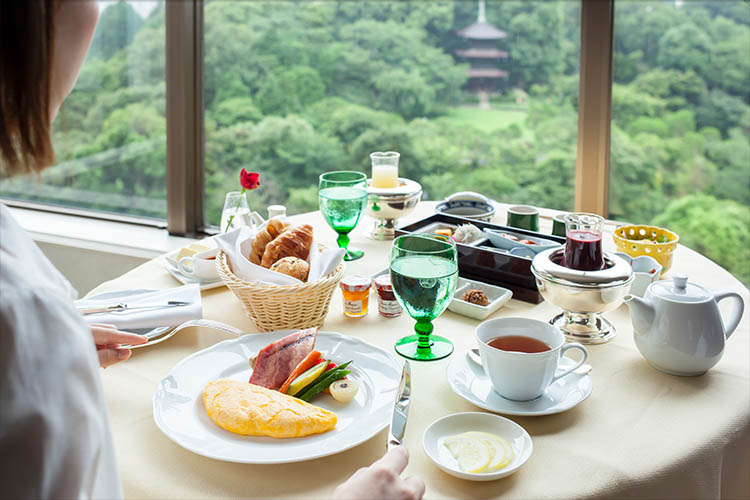 Restaurants
Please dial 76
Our room service staff will be pleased to arrange for any special item not on the menu.
If availability is affected by weather or other such factors, we may replace certain items with equivalents from other regions.
To guests with food allergies 
To ensure that our guests enjoy our receptions, banquets, restaurants and room service, we exercise the utmost caution with food ingredients.
For details on our policies, please read the points of notice below.
Points of notice
We verify ingredients based on information received from the manufacturer.
Because we prepare food in our kitchen together with that from other menus, there is a possibility that during processing or cooking, minute amounts of allergic substances may be mixed in with meals.
We ask that guests please be aware of the above conditions when dining with us.
All prices are in Japanese yen. Prices include consumption tax, but a service charge of 15% will be collected separately.
*Some services currently unavailable.
NIGHT OWL MENUServed from 10:00 p.m. to 6:00 a.m. (L.O.5:00 a.m.)
Salad / Soup
Marinated salmon

¥1,850

(V)Romaine lettuce and mesclun green saladwith your choice of dressing: French, balsamic, or non-oil soy dressing

¥1,760

Traditional Caesar salad

¥2,130

Additional topping on your mesclun or Caesar salad: chicken, shrimp or prosciutto +

+¥460

Charcuteries

¥2,780

(V) Vegetable minestrone soup

¥1,940
Sandwich / Curry / Pasta
Clubhouse sandwich with vegetable pickles

¥2,690

(V) Ricotta cheese, herb, tomato and zucchini sandwich with mélange salad

¥2,500

Beef burger or cheeseburger (cheddar or blue cheese) with mélange salad

¥3,240

Japanese classic beef curry with steamed rice

¥3,610

Japanese classic curry with steamed rice: chicken or vegetables

¥3,330

Seafood spaghetti with tomato sauce

¥3,520
Japanese home-style cooking
Onigiri rice balls with miso soup, ginger-simmered beef in sweetened soy sauce, grilled salmon and plum pickles

¥1,940

Ochazuke: rice in soup stock with grilled salmon and plum pickles

¥1,940

Chilled soba noodles with dipping sauce served with condiments

¥1,940

Chilled udon noodles with dipping sauce served with condiments

¥1,940
Cheese / Dessert
Assorted cheese

¥2,220

Ice cream or sherbet (3 scoops)

¥1,110

(V) Assorted fresh fruits

¥2,310
(V) Vegetarian Cuisine
We only use tice grown in Japan for all our dishes